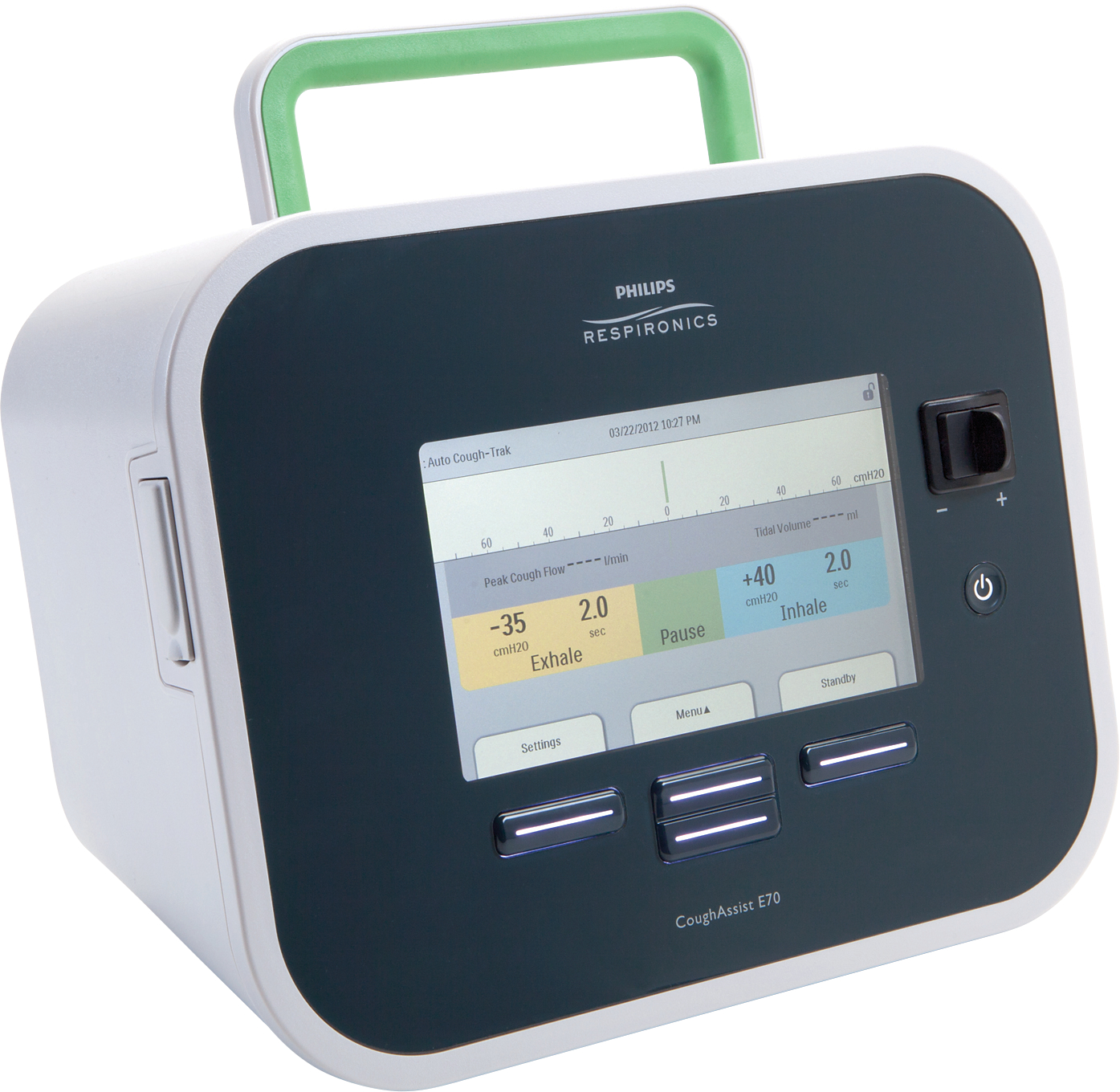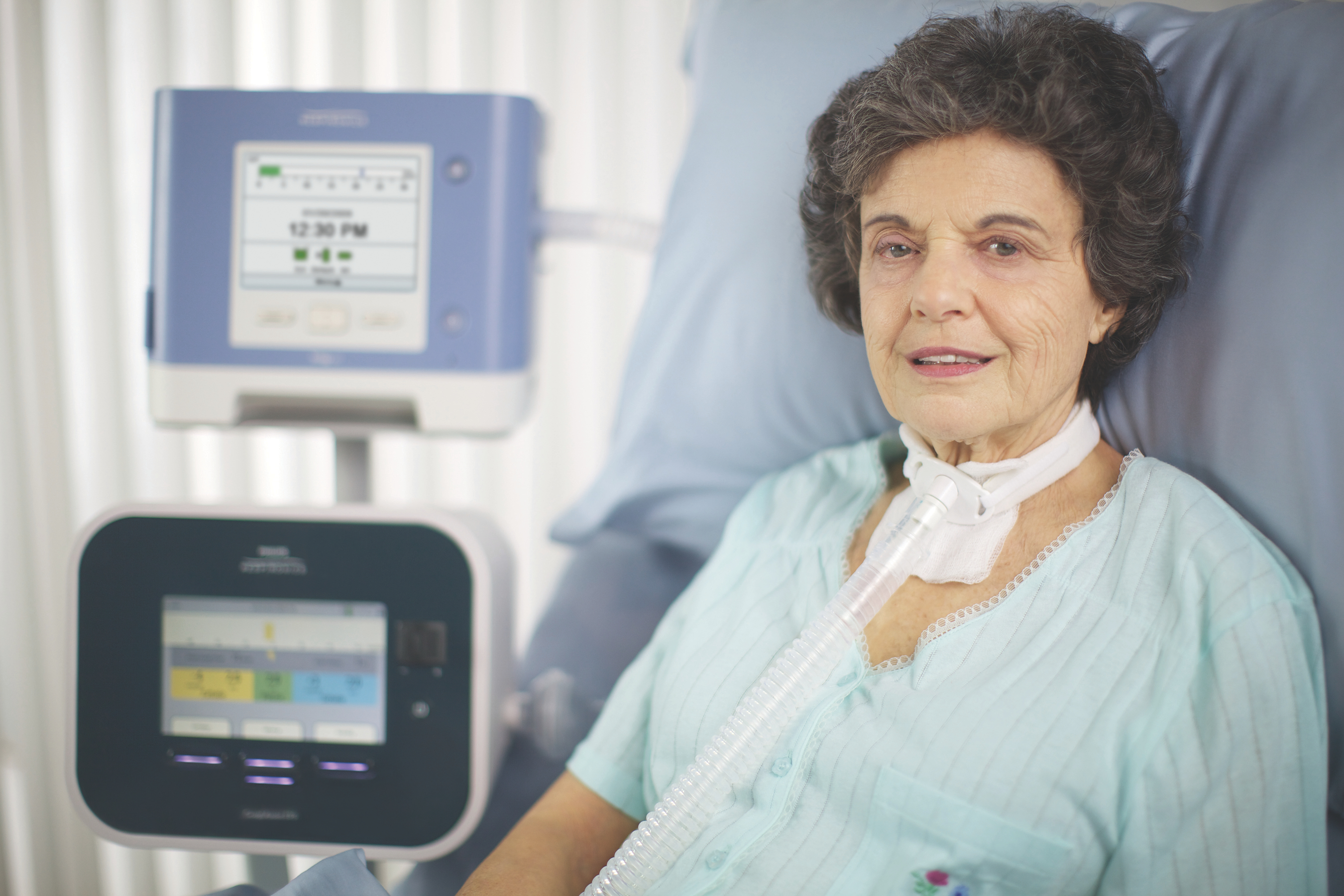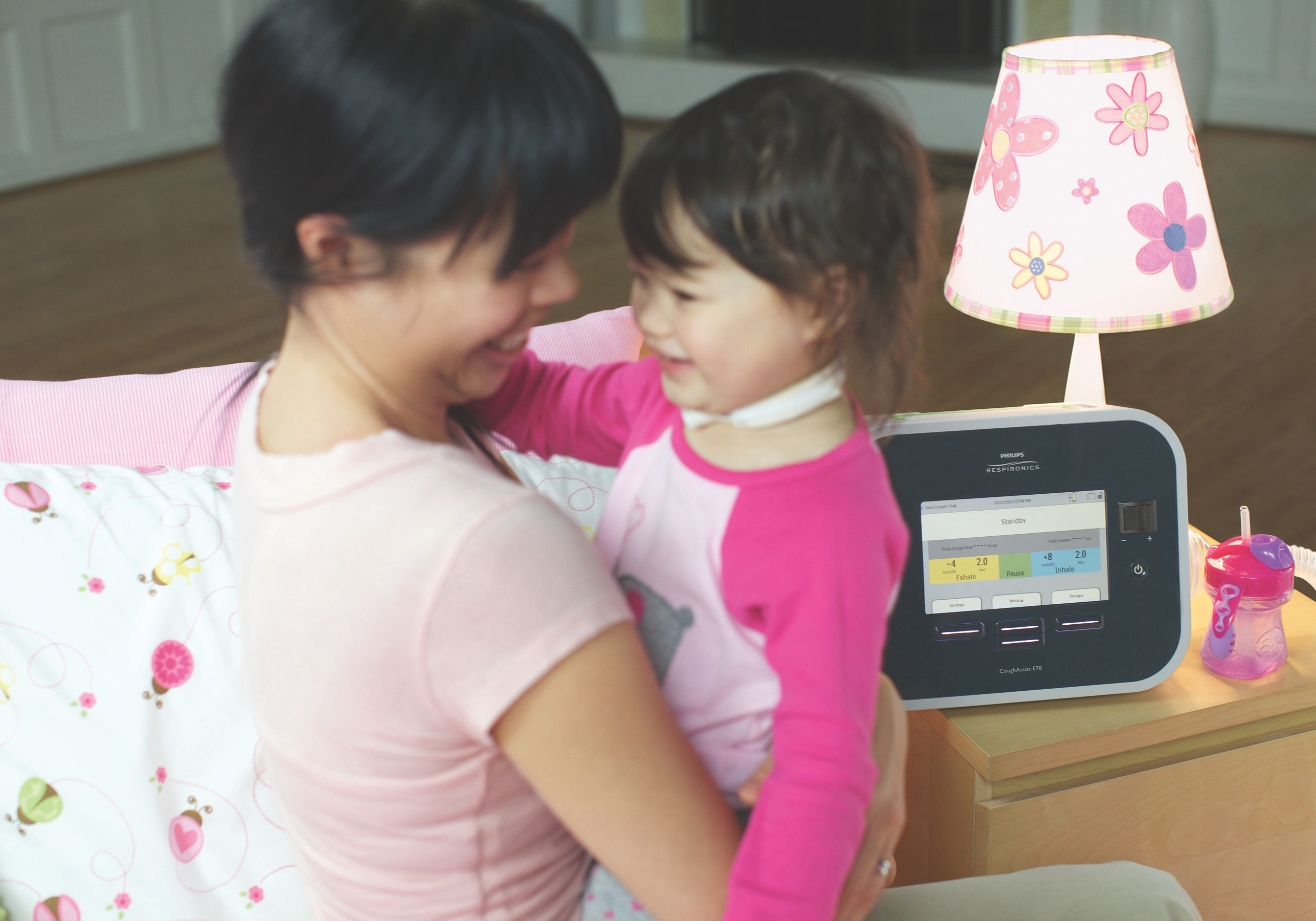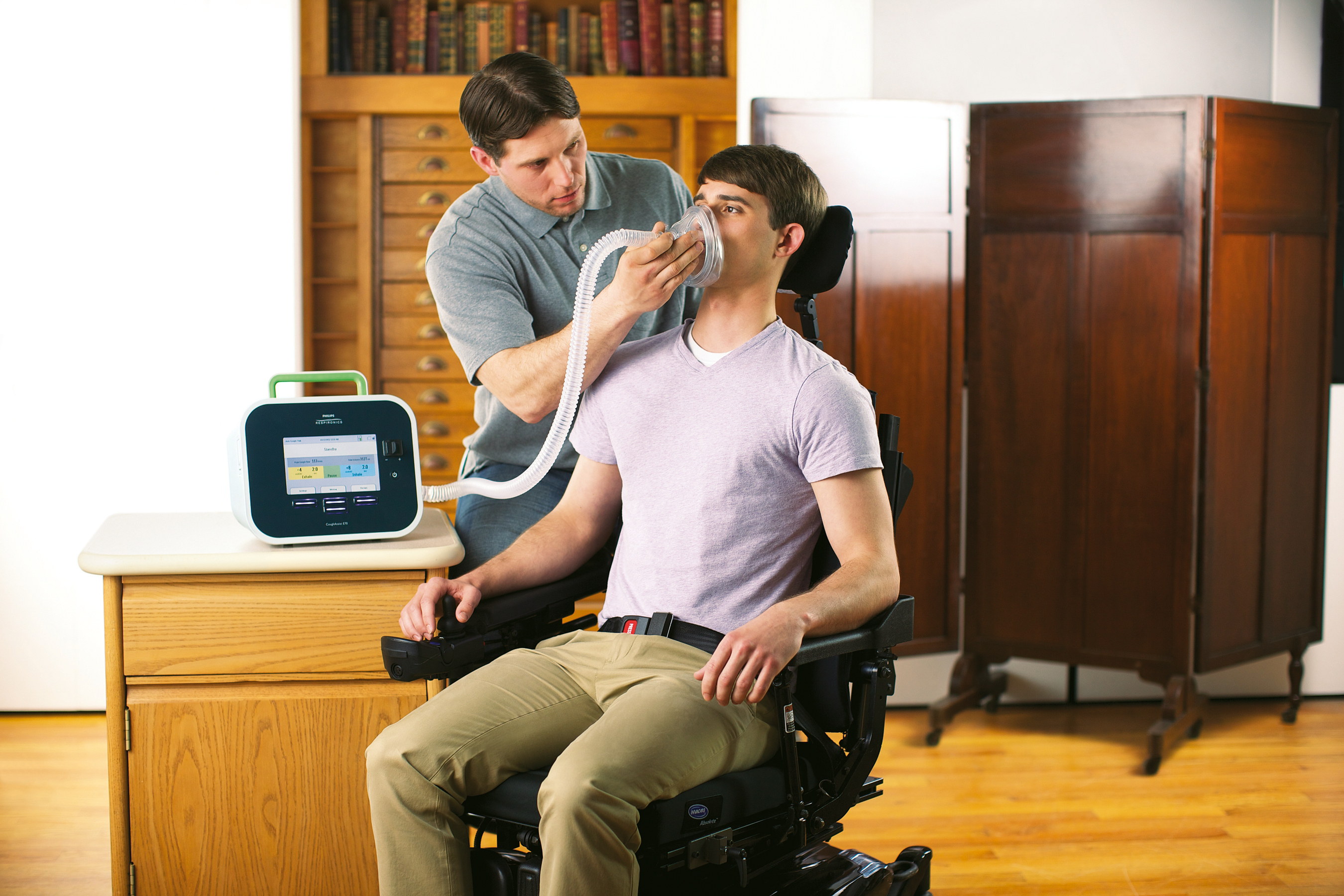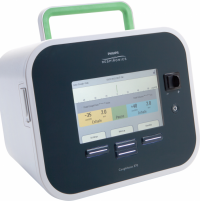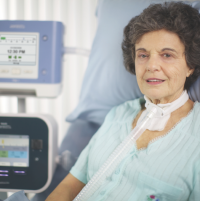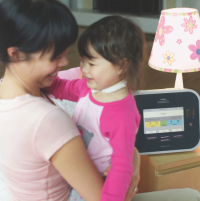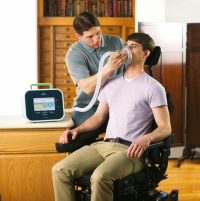 The CoughAssist E70 provides an effective, yet remarkably gentle, noninvasive secretion clearance alternative for use in the hospital and at home. View more
CoughAssist E70 is a mechanical insufflation-exsufflation device designed to noninvasively clear secretions from the lungs by simulating a natural cough. Similar to a normal deep breath, CoughAssist gradually applies positive air pressure (insufflation) to obtain a large volume of air within the lungs. The device then quickly reverses the flow of air by shifting to negative air pressure (exsufflation). The resulting high expiratory flow helps mobilize secretions out of the airway as a deep, natural cough would do.

Control and Synchronization
The proprietary, integrated Cough-Trak algorithm gives patients the ability to initiate their therapy. By triggering on patient inspiration, this feature helps to synchronize therapy with the user's breathing pattern allowing for more control of therapy and a more comfortable, natural treatment.

Multiple Non-invasive Patient Interface Options
Instead of introducing a suction catheter into the airway, CoughAssist delivers therapy through a face mask, mouthpiece, or a simple adapter that allows the device to function with an endotracheal or tracheotomy tube.

Flexibility in Delivery of Therapy
Three highly customizable therapy modes offer the ability to better tailor therapy to patient needs and treatment settings: Manual, Auto, Advanced Auto. From complete manual control over every aspect of treatment by a clinician or caregiver to a fully automated treatment mode including pressure settings, pre-therapy breaths and cough cycles.

Loosening and Mobilization
CoughAssist offers an adjustable oscillation feature designed to enhance the loosening of mucus from the bronchial walls and increase mobilization of secretions to help improve bronchial drainage and increase the benefits of mechanical insufflation-exsufflation therapy.

Enhance Clinical Evaluation and Reporting
Data management tools help assess therapy efficacy and enable better clinical decision-making around patient use and treatment settings. Achieve the most effective cough with insight into a patient's response to therapy from CoughAssist by monitoring data including peak cough flow and oxygen saturation while also reviewing pressure and flow waveforms.

Enhance Patient Mobility and Care with CoughAssist Accessories
From multiple power source options and a roll stand, oximetry accessories and a hands-free control foot pedal option, CoughAssist's array of accessories helps give patients and families more freedom and mobility while maintaining effective treatment.
Specifications
| | |
| --- | --- |
| Preset Programs | Automatic Mode - 1, 2, 3 |
| Cough-Trak | Automatic Mode: OFF/ON; Advanced Auto Mode: OFF/ON |
| Pre-Therapy Breaths - Advanced Auto Mode | OFF, 1 to 10 |
| Pre-Therapy Pressure - Advanced Auto Mode | 0 to +70 cmH2O, in increments of 1 cmH2O |
| Pre-Therapy Flow - Advanced Auto Mode | Low/Medium/High |
| Pre-Therapy Time - Advanced Auto Mode | 0-5 sec., in increments of 0.1 sec. |
| Pre-Therapy Pause | 0-5 sec., increments of 0.1 sec. If Cough-Trak OFF |
| Number of Coughs - Advanced Auto Mode | 1 to 15 |
| Inhale Pressure | 0 to 70 cmH2O, in increments of 1 cmH2O |
| Inhale Flow | Low/Medium/High |
| Inhale Time - Automatic & Advanced Auto Mode | 0 to 5 sec., in increments of 0.1 sec. |
| Exhale Pressure | 0 to -70 cmH2O, in increments of 1 cmH2O |
| Exhale Time - Automatic & Advanced Auto Mode | 0 to 5 sec., in increments of 0.1 sec. |
| Pause Time - Automatic & Advanced Auto Mode | 0 to 5 sec., increments of 0.1 sec. |
| Oscillation | OFF/Inhale/Exhale/Both |
| Frequency | 1 to 20 Hz, in increments of 1 Hz. |
| Amplitude | 1 to 10 cmH2O, in increments of 1 cmH2O |
| Number of Cycles - Advanced Auto Mode | 1 to 10 |
| Post-Therapy Breath - Advanced Auto Mode | ON/OFF |
| AC Voltage Source | 100 to 240 VAC, 50/60 Hz |
| DC Power | 12 VDC |
| Dimensions | 23.1 (h) x 29.2 (w) x 19 (d) |
| Weight | 3.8 kg (4.3 kg with battery) |
Provides effective, yet remarkably gentle, noninvasive secretion clearance alternative for use in hospital and home
Clears airways for longer periods of time than tracheal suctioning, and with fewer complications
Intuitive color interface makes it easy to assess treatment and fine-tune device settings to improve therapy efficacy
AC or battery powered, a truly portable solution, offering patients increased freedom and support
Detachable battery delivers one day of therapy
Three highly customizable therapy modes accommodate different patient conditions
Advanced Auto Mode increases the airway clearance therapy options
Manual Override allows clinician to quickly switch from Auto to Manual therapy when unexpected situations occur
Foot pedal allows the caregiver to manually perform a chest thrust while holding the interface