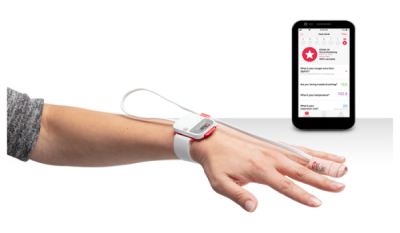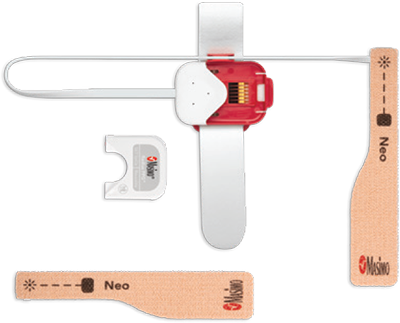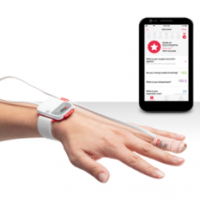 The COVID-19 pandemic is creating increased demand across the globe for home-based monitoring and patient engagement solutions. Current WHO guidelines discuss triage and monitoring of COVID19 patients based on temperature, respiration rate, and oxygen saturation, and Masimo is meeting this increased need by adapting existing technology to deliver a secure cloud-based solution.
Combined, the Masimo SafetyNet solution provides continuous tetherless pulse oximetry and respiration rate monitoring coupled with a patient surveillance platform.
Tetherless Pulse Oximetry with Respiration Rate Monitoring
Powered by Masimo SET® measure-through-motion technology, the tetherless single-patient-use sensor provides continuous respiration rate and oxygen saturation monitoring. Patient data is sent securely via Bluetooth to the Masimo SafetyNet mobile application.
Accurate, Reliable Noninvasive Monitoring Technology Platform
Masimo SET® was designed with advanced signal processing to overcome the limitations of conventional pulse oximetry by maintaining accuracy in the presence of motion and low perfusion. Today Masimo SET® is estimated to be used on more than 200 million patients in leading hospitals and other healthcare settings around the world. Additionally, the availability of continuous respiration rate from the pleth (RRp) alongside Masimo SET® may help clinicians monitor respiration rate without the need to apply an additional sensor.