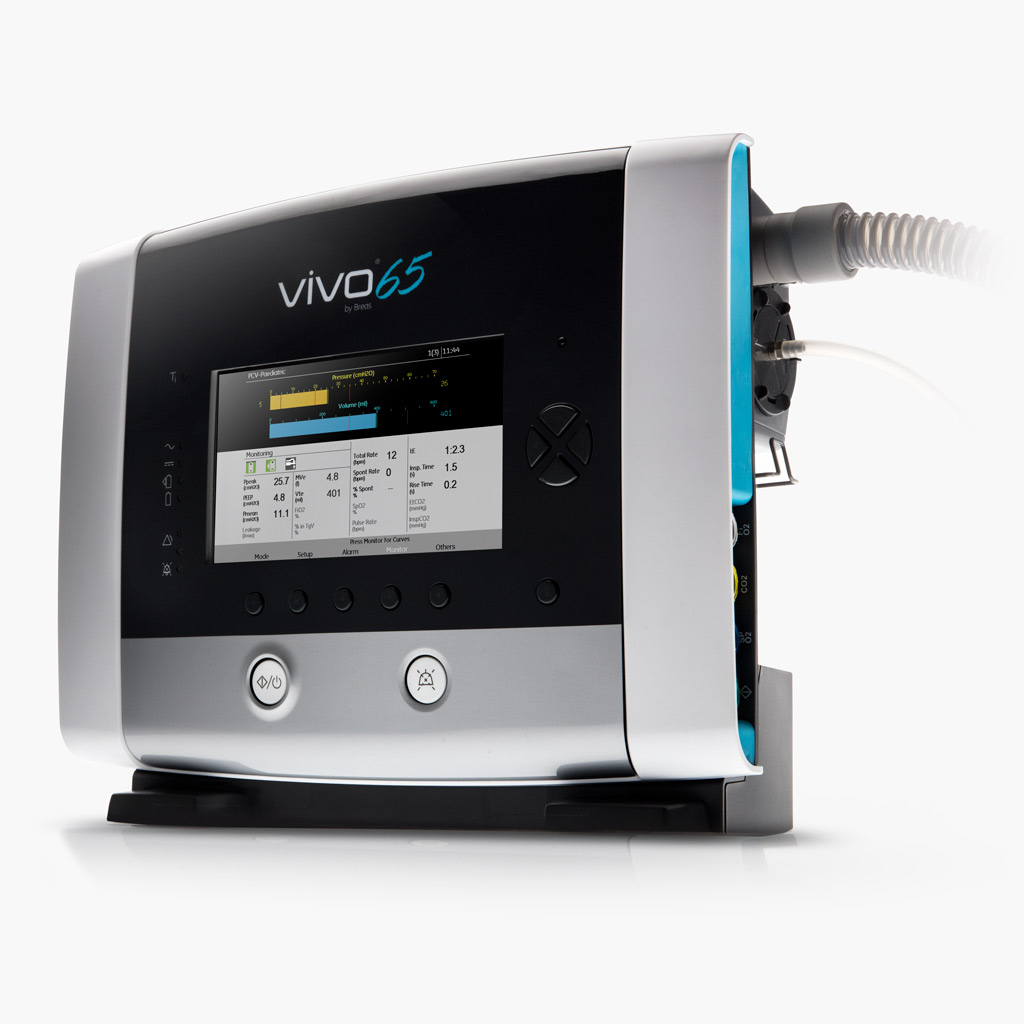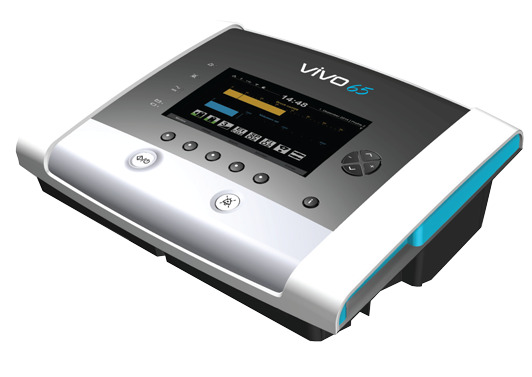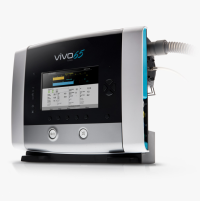 Indicated for pediatric (from 11 lbs/5 kg) and adult patients, the Vivo 65 effectively treats a broad range of respiratory diseases while providing ease of use to medical staff and caregivers. View more
The Vivo 65 is designed to meet the needs both of medical staff and a wide range of patients. It combines comfortable and controllable ventilation with excellent monitoring capabilities to potentially reduce re-admissions to acute care facilities. It is an advanced homecare ventilator designed to deliver secure and comfortable (life-support) treatment to adult and pediatric patients from 5 kg. The Vivo 65 can be used for a wide variety of patients thanks to a comprehensive set of modes, circuits and accessories.

Dual Limb Circuit & Extensive Monitoring Capabilities
The dual limb circuit allows for the measurement of exhaled volumes providing additional security. The extensive monitoring capabilities help obtain a better insight into the quality of ventilation. The Vivo 65 is an excellent choice for mechanical ventilation at home, in the hospital and in long-term care facilities. The Vivo 65 is prepared for connection to Breas cloud solutions.
Integrated monitoring of SpO2, CO2 and FiO2
Real-time values and curves on the device
Comprehensive alarms
PC software for detailed analysis and reporting
12-hour autonomy with the 4-hour internal battery plus the 8-hour click-on battery
Ideal Choice for Treatment of Children
Vivo 65 is an ideal choice for the treatment of children (> 11 lbs / 5 kg) thanks to its accurate volume delivery and highly responsive trigger system. With its intuitive user interface, the Vivo 65 is easy-to-use and easy-to-teach.

Adaptable to Patients' Needs and Prescriber Preferences
This is suitable for a wide range of pathologies and for patients with changing requirements over time.
Multiple circuits - dual limb with exhaled volume measurements, single limb with exhalation valve or leakage port
Invasive and non-invasive ventilation
Multiple modes – Pressure and Volume Modes with Target Volume and SIMV
Easy-to-Use Thanks to Intuitive User Interface
The Vivo 65 features a simple menu structure and is both easy to use and easy to teach!
User-friendly color interface
Easy to teach, easy to learn, reducing risk for mistakes
Extensive analysis and detailed reports in the PC software
Specifications
| | |
| --- | --- |
| Patient Modes | Adult, Pediatric |
| Device Modes | Home, Clinical |
| Inspiratory Pressure | 4 to 60 cmH2O |
| PEEP | Off, 2 cmH2O to 30 cmH2O |
| Breath Rate (PCV, VCV, MPV, SIMV) | 4 – 60 bpm, 0 – 60 bpm in MPV mode |
| Inspiratory Time | 0.3 to 5 s |
| Backup Inspiratory Time | 0.3 to 5 s (PSV) |
| Rise Time | 1 to 9 (PSV & PCV) 50 – 90%, Off (VCV) |
| Inspiratory Trigger | 1 to 9 (PSV, PCV & VCV), Off (PCV & VCV) |
| Expiratory Trigger | 1 to 9 (PSV) |
| Minimum Inspiratory Time | Off, 0.3 to 3 s |
| Maximum Inspiratory Time | 0.3 to 3 s, Off |
| Target Volume | 50 – 2500 ml |
| Tidal Volume | 50 – 2500 ml |
| Flow Pattern | Square, decelerating |
| Sigh Function | On/Off, rate (every 50-100-150-200-250 breaths) |
| Waveforms | Pressure, Flow, Volume, CO2 |
| Trends Over 1, 6, 24 and 48 h | Peak, PEEP, Total rate, Spont rate, Vt, Leakage |
| Trends Over 1, 6, 24 and 48 h | SpO2, EtCO2 |
| Power Supply | 100 to 240 V AC |
| DC Power | 24 V DC |
| Click-on Battery | 8 hours |
| Internal Battery | 4 hours |
| Dimensions | 343 × 125 × 264 mm |
| Weight | 5.4 kg |
| Noise Level | Less than 30 dB(A) |
High performance and clinical excellence
Excellent trigger and highly accurate volume measurement technology
Extensive set of modes, including Pressure and Volume Modes, SIMV
Variety of patient circuits: Single limb w/leakage or exhalation valve and dual limb for measurement of exhaled volume
Extensive alarms
Three profiles to quickly adjust the settings to the needs of the patient
Simple menu structure
i-Button for guidance and explanations
Connectivity to PC Software - Allows monitoring of up to 10 Vivo 65 ventilators simultaneously
Real-time monitoring and clear indication of alarms
Waveforms and loops for in-depth analysis of treatment
365-day storage of data
Facilitates workflows and timely intervention
Integrated monitoring of SpO2, FiO2 & CO2 helps reduce need for external monitoring devices, reduces cost
Numerical values and waveforms on the screen, multiple alarms
CO2 monitoring is quick, easy to use and doesn't require calibration